A website can have a major impact in the growth of your business. It is a touchpoint where your customer can spend a significant amount of time engaging your brand. After receiving visitors from search, social, ads, email, other websites, your website can be that best version of you, a trusted advisor that guides your buyers to their goal.
In this blog post, we will go through a process overview of launching a website.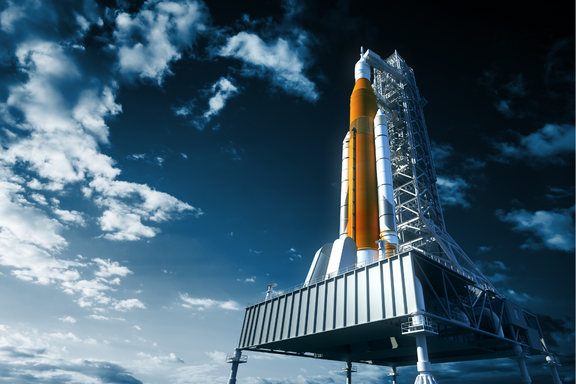 The Pre-Launch
Launching a website can be quite simple. Unless you have very specific needs, you no longer have to get a server, set up a host, acquire a security certificate, etc. There are now services that provide the software used to make a website without much technical know-how.
But before for every successful launch of a website, you have to prepare. You have to prepare with a strategy anchored on your business goals, your value proposition and good understanding of your buyers. You need to gather, repurpose or create from scratch content based on this strategy. Along with your brand logo, colors, and fonts, this content will be the rocket fuel that launches your website and fuel it through the internet for the world to experience.

Armed with your brand kit and content inventory, these are the 7 steps to launch your website.
Get a domain

Setup a CMS account

Connect the domain to the CMS

Choose, activate, and customize your theme
Create and publish pages
Create and publish a landing page
Create and publish a blog
Get a domain
You domain is what you put on your browser to go to a website. It is how people remember you. It is used instead of the IP address that computers actually use to recognize and communicate with each other.
A domain name is made up of a subdomain, a brand domain, and a top-level domain.
| | | | |
| --- | --- | --- | --- |
| domain name | subdomain | brand domain | top-level domain (TLD) |
| www.google.com | www | google | com |
| www.greenarc.com.ph | www | greenarc | com.ph |
| blog.incognitus.ph | blog | incognitus | ph |
.com.ph and .ph are ccTLD or country code TLDs. These come in handy because most of the generic TLDs that we are used to like .com or .net have already been taken.
You get a domain name from domain registrars. One of the most popular is GoDaddy.com. Google also registers domains. I personally use NameSilo.com (note: this is an affiliate link). There are CMS SaaS providers that let you register a domain through their service like wordpress.com and Google sites. Make sure to check.
Create a CMS instance
A Content Management System or CMS is the software that takes care of your content so people can see it on the internet as a website. This software makes it possible for you to publish a website without the need to know code. A CMS is hosted on a specialized computer or server. If your CMS were presentation software, your computer would be the server.
You can setup the server yourself or you can create a CMS account with a SaaS provider.
Start by choosing a webhost. Some webhosts feature one-click CMS set-up. Just choose the CMS you want to use, and the host provides a guided set-up experience where you input usernames, passwords, etc. After the initial set-up, you get to visit your site and finish things up by working with the CMS to customize your website.

Most webhosts also allow you to set things up from scratch. The experience is more like setting up a computer with an empty operating system (OS) without a graphic user interface (GUI). You would choose an operating system (i.e. Linux or Windows) then input commands on a terminal to instruct the server to set-up a firewall, an SMTP service, an HTTP server, a MySQL server, a PHP processing language software, secure SSL certificates and the like. Why bother? You get to tweak for security, performance, reliability. It also allows you to troubleshoot.
You can learn more about choosing webhosts here: How to Choose a Web Hosting Provider at digital.com.
SaaS or software as a service takes care of all the nitty gritty of server setup, maintenance, security, performance, etc. This minimizes the need for any technical knowledge about servers. Unless your business is actually providing hosting services, we strongly suggest you go with a SaaS solution.
Examples of CMS SaaS are wix.com, squarespace.com, wordpress.com, shopify.com, huspot.com, learnworlds.com, sites.google.com. Wix, Squarespace, Wordpress, Google Sites make general purpose websites where you can add functionality to help meet your objectives. Shopify specializes in ecommerce websites. Learnworlds is a learning management platform. Hubspot CMS is purpose built to be part of a business growth platform.
Using a similar playbook, there are domain registrars that provide CMS SaaS service. Ask around.
Connect your domain to your CMS
Consistent with making the user experience as technical know free as possible, SaaS providers have content to guide you through the steps. It normally involves
inputting your domain in your CMS
copying an (internet protocol) IP address made up of 4 numbers separated by dots (ex. 190.1.59.200)
putting that IP address on an A record on your domain registrar DNS records
waiting for verification of the connection
This as good as "techy" as it gets. Believe me it is nothing compared to setting up a server from scratch. From there a good CMS SaaS will take care a bunch of other things behind the scenes for the security and performance of your website.
Choose a theme
A theme is a combination of code that determines how your audience will experience your content. It makes your website more attractive and easier to navigate while still loading as fast as possible. They are pre-made page designs or templates tied together with an overall look. Pages can be made from a template or from scratch by combining modules while staying consistent to the theme.
Your chosen CMS should provide you with a selection of free and paid themes. Besides the cost, you can narrow down you theme choice based on your brand, your industry, features you need, and compatibility with your CMS plan.
Take time to set up your brand on the site. Upload your logo. Specify your colors for backgrounds, typography, buttons, etc. Put together your typography, that purposeful combination of fonts and font sizes for various headings, sub-headings, buttons, etc.
Make your pages
Most websites that have multiple pages each with a purpose that contribute to the overall user experience. Some websites are made up of one page that contains everything in various sections on the one page.
To make a webpage, you use a page builder. A page is built up with modules laid out into sections. Modules are elements with specific functions like showing an image, rendering text, counting down numbers, collecting form answers. You can start building with a blank page or you can modify a template. A template is a purposeful combination of modules.
A typical set of pages or page types include:
homepage
about page
product or services page
pricing page
contact us page
Your homepage is where you welcome your guests and acts much like a hotel lobby. It give them an overview of what else they can see on the website when they explore. Guests are directed or can navigate from here to the various pages that serve the intent of their visit.
About pages is where visitors can learn more about your company, perhaps your history, the people behind it, your purpose, your principles and approach.
On the product or services page, guests find out what it is you do, what value you provide. Pricing pages specify in what form or package people can avail of your products or services and at what price.
Contact us page provide information about how interested buyers can get in touch with you through various channels.
Create landing pages
Landing pages are built for getting conversions. A conversion happens when a visitor gets to the site and takes a call to action (CTA) in exchange for some takeaway. For example, you might leave your email address with a few more bits of information on a form in exchange for an ebook "Use Your CRM to Power Your Digital Marketing" or to attend a free webinar on "Inbound Marketing 101".
Landing pages help marketers learn more about their buyers while nurturing them into qualified leads. With the help of a CRM, a better picture of a website visitor is built up. The answers shared on forms along with record of interactions with pages, social posts, ads, email and other digital touchpoints pages all contribute complete this picture.
Create blog pages
Blog pages are published to demonstrate expertise. Your blog is where you share your knowledge with others. This knowledge should help readers find answers to their questions and ultimately solutions to their problems. Doing so helps you build credibility and trust with potential customers.
Blogs help drive traffic to your website. Search engines find, crawl, and recognize websites that produce regularly useful and engaging content. Creating helpful, human content make it easy for people go through their journey. Making such blog content at least 2 and up to 11 times a month build organic traffic to your site.
Now what?
Most people expend a lot of effort, spend a lot of time and money only to set and forget their website. Don't fall into the trap.

After launching a website, start improving it. Make sure you establish your audience and delivering value. Then get better at providing a great user experience and converting effectively. After that, come up with other products or services, provide support to your customers, or use the website to help other teams in your business.
Strategically planning, efficiently launching, and continuously improving your website are elements of a growth driven design approach. Such an approach gives you the best chance at creating and keeping a website that nurtures your relationship with more and more of your buyers.